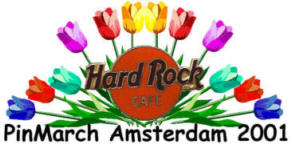 Pin International Network ( PIN ) and the Hard Rock Cafe Amsterdam
have organized the PIN-March at Amsterdam's HRC location.
The event was a great success again. Round 400 collectors from
the whole world have visited the event on march 16th - 18th.
The event is for trading pins, have fun, meet some friends
and last but not least for helping social poor people.
So at last after 3 days of fun, PIN and the Hard Rock Cafe
in Amsterdam were be able to spend round about 20.000 US Dollar
as a benefit to the local ANTAR organisation which is helping people.

GREAT job girls and guys and thanks to PIN and HRC Amsterdam !!!
Below some pictures from the event at HRC Amsterdam
to enlarge please click into the picture
Waiting Line
Welcome from Jens
Alan during the auction

Bidders
the casher Ralf + Ron ...
Pintrader Rosando + David

PIN Presidents
US Corner
Waitresses Claire + Lisa

Party Time
Be my Teddybear
Judson
At last PIN was be able to give a big check
as a benefit to the ANTAR organisation - THANKS !
Left to right: Ralf Stefan (PIN Treasurer), Bernd Goebel (PIN Vice-President), Jens Beckmann (PIN President),
Inger Visser (President of ANTAR), Rita Gilligan (HRC Ambassador), Ron Buol (PIN Warden), Regine Sudhoff (PIN Secretary)